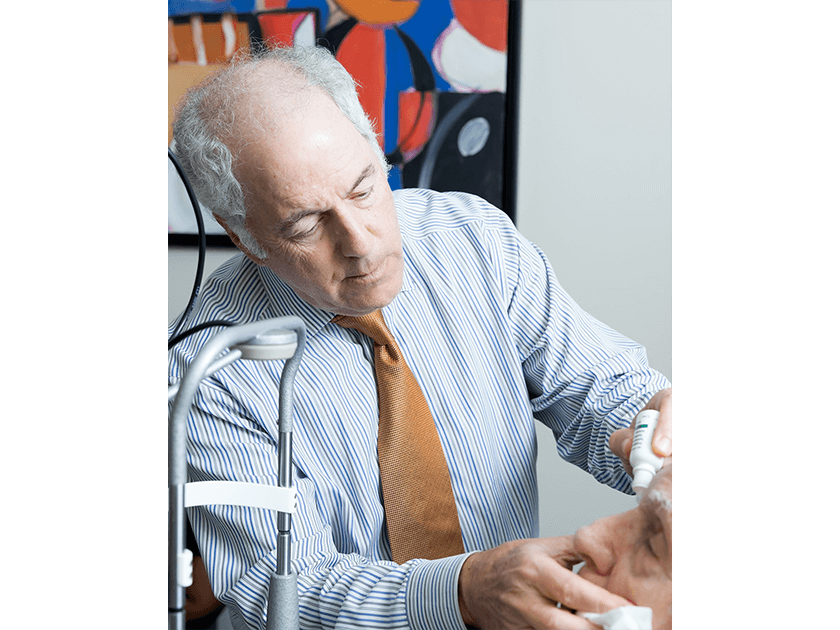 Cataract and Anterior Segment Surgery
Dr. Peter Pearlman is an ophthalmologist at Palm Beach Eye Center. Dr. Pearlman attended Case Western Reserve University and completed his ophthalmology residency at Sinai Hospital of Baltimore and Wilmer Eye Clinic at Johns Hopkins University where he served as chief resident for two years. He later completed his ophthalmology fellowship, studying anterior segment surgery at Girard Institute of Ophthalmology, Houston, Texas Delray Medical Center. Here, he had the opportunity to serve as the chief of surgery, vice-chief of staff, chief of staff (2 years running). In the early 1980s, he founded Delray Outpatient Surgery Center, which he practiced comprehensive ophthalmology for over 30 years. Dr. Pearlman is also the founder and president of the Florida Scholastic Hockey League, the Premier High School Hockey Program in Florida, which has been in operation for nearly 20 years.
Dr. Pearlman specializes in
Refractive cataract surgery
Dry eye disease
Reviews
"Excellent doctor. Pathetic scheduling issues. Note all the one star ratings for running late..."
J.A.
Healthgrades
"Had my annual eye exam and the process went pretty smoothly. Genesis checked me in and Anabel was the tech. I saw Dr. Pearlman in the Lake Worth office. Everyone was professional and the wait was minimal."
P.V.
Google
"With my said eye condition. I was happy to report that with Dr. Pearlman and work. My said eye condition was healed. And gave me the visiion to live a better life. And that Stephanie is amazing."
H.C.
Google
"Dr. Pearlman and his staff are detailed and attentive to us. I recommend his complete staff namely Genesis (Receptionist), Aliana (Technician), Dorrance ( Technician) and Stephanie who scheduled my next appointment and checked me out. I wouldn't trust anyone else to me and my families vision."
D.P.
Google
"Dr. Peter Pearlman is a very good doctor - but his staff at the Linton Road office at Delray Beach can be difficult to deal with. It is hard to get anyone on the phone at times to make or change appointments, and you can have a long wait in his office - up to 90 minutes at times - to see the doctor. The main person behind the desk can be cold and unfriendly. Although many doctors locally are like this, I give this practice two stars in customer service and friendliness."
E.H.
Google